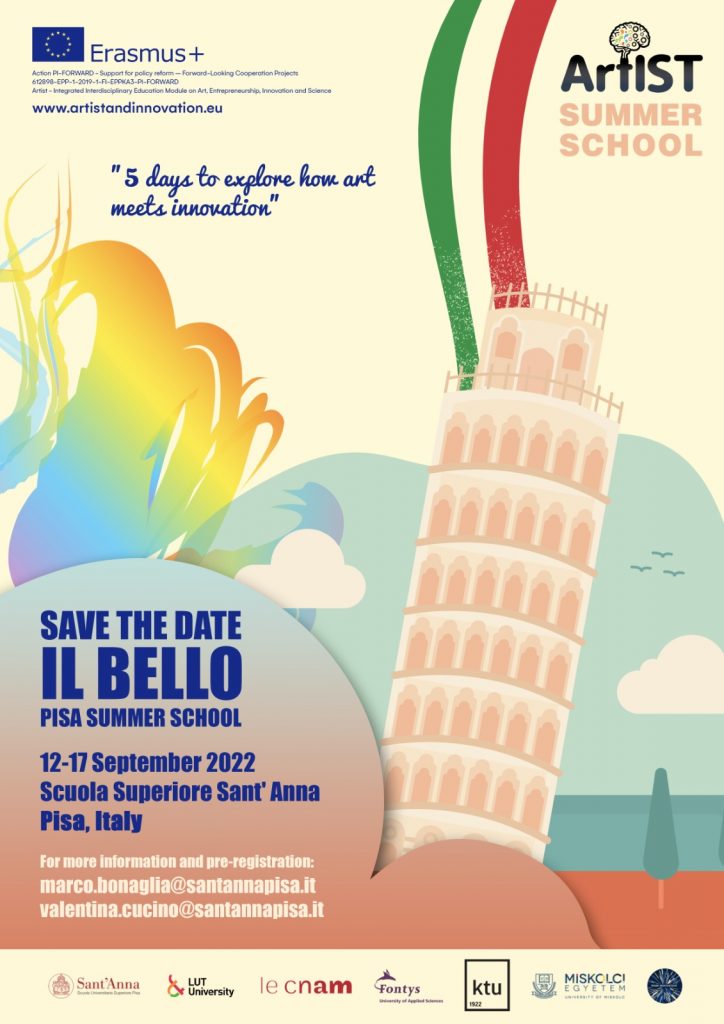 I am delighted to share the "Save the date" of the next ArtIST Summer School, an exciting event of the Erasmus+ Project I have been honored to be part of in the past three years. The Summer School will take place in Pisa on 12-17 September 2022 and it will be focused on the connections and contamination between entrepreneurship, arts and innovation.
FULL SCHOLARSHIPS ARE AVAILABLE for Undergraduate, Master, and PhD Students.
ArtIST (Art, Entrepreneurship, Innovation and Science) is an ERASMUS+ project that aims to design and implement innovative Master-level modules integrating Arts in the education of innovation, entrepreneurship and science. It is navigated by seven Higher education institutions and industry partners from Austria, Finland, France, Hungary, Italy, Lithuania and the Netherlands. The Project is intended for other European educational institutions and training organizations beyond the consortium. It is addressed to all European graduates: teachers and students first, but more generally future innovators, educators, entrepreneurs and leaders.
The activities include developing concrete policy recommendations supporting better cooperation between different education sectors, research, business, public sectors, and integration of STE(A)M approach to educational programs and wide dissemination in Europe. The Project is jointly developed by all the partners through Winter and Summer Schools, Workshops and the attendance of conferences all over Europe.
To know more about the previous events organized by ArtIST, please take a look at the official website at this link .
For more information and pre-registration, send an email to marco.bonaglia@santannapisa.it or to valentina.cucino@santannapisa.it