I am pleased to announce the publication of a new study by the European Commission in the Innovation and Growth science area (JRC working paper on Corporate R&D and Innovation n. 6/2020).
This study, conducted with Prof. Alfredo De Massis  from the Free University of Bozen-Bolzano, and our two teams (Cristina Marullo, Paola Rovelli, Rik Tensen, Antonio Carbone, Antonio Crupi) with the support of APRE – Agenzia per la Promozione della Ricerca Europea can be downloaded for free from the European Commission website at this link.
We interviewed 21 small and highly innovative firms ("EU Innovation Champions") with strong growth ambitions through the development of innovations with high-potential market impact to examine how they absorbed and reacted to the shock caused by the COVID-19 pandemic.
We show that the COVID-19 outbreak presented great challenges, but also opportunities, to SMEs across Europe. Five different paradoxical behaviours (i.e., planning, liquidity, time and velocity, partnership, resources and technology) characterised the European Innovation Champions' during the peak of the COVID-19 pandemic.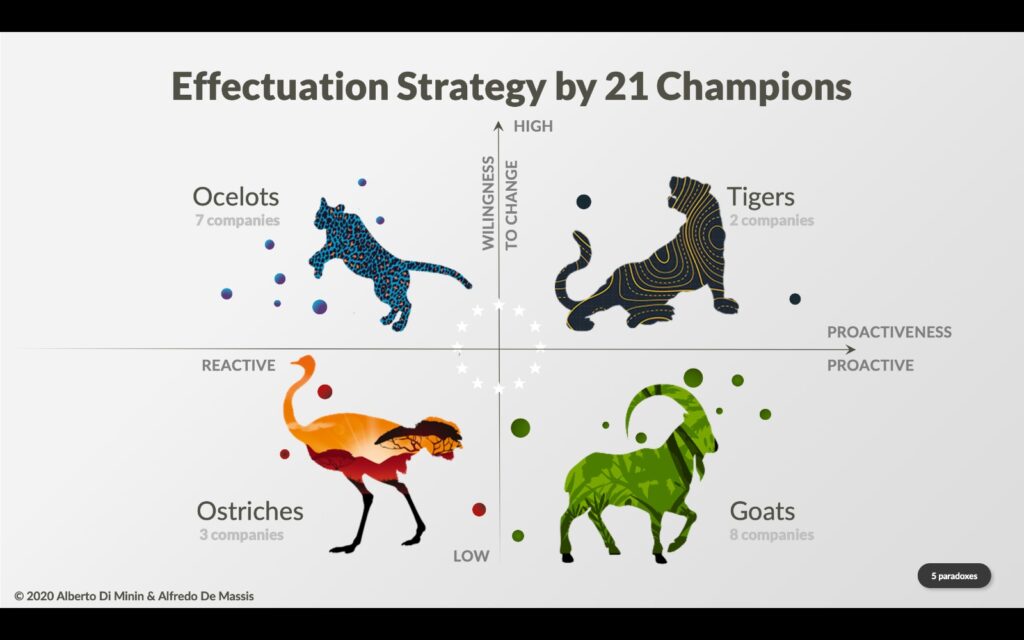 We distill 10 management principles representing key actions and decisions that allowed the European Innovation Champions to manage each paradox. This report provides policymakers and business leaders both within and outside the European Union with insights to enhance the capability of SMEs to succeed through a crisis.
How to cite this report:   De Massis, A.,Di Minin, A.,et al. (2020). How the "EU Innovation Champions" successfully absorbed and reacted to the shock caused by the COVID-19 pandemic. JRC Working Papers on Corporate R&D and Innovation No 06/2020, European Commission, JRC121856
LINK TO THE FULL REPORT